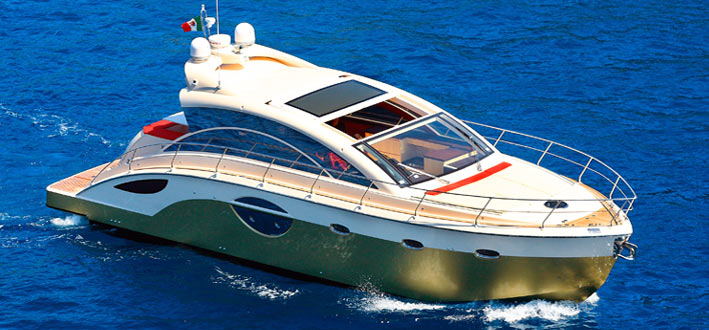 Customize your boot
Benefiting from the unusual shape of the hull, the living areas below decks are comparable in all respects with those normally found on a 60-footer. Headroom throughout the sleeping area is constantly more than two metres, while the openable windows provide soft natural light. The large cabins, with their well-balanced layout, ensure easy, unconstrained movement.
Hull
Dinette
Owner's Cabin
Vip cabin
Crew's cabin
Owner's bathroom
Vip bathroom
Pilot cabin
Deck

November 2009: Great excitement for the excellent performances and the extraordinary comforts of Santarpia 55, revealed during the World Boat Test realized with the cooperation of Yacht&Sail experts team.
Watch the video
.
29th September 2009: only few days ago, Cantieri Santarpia staff completed the last test, with the support of Yacht&Sail editorial team. The images and the video will be visible for the first time in the next weeks on Yacht&Sail Channel and on Youtube.
9-14 September 2009: great debut for the Cantieri Santarpia 55 feet at the Salon International de la Plaisance at Cannes. Moored at Quai Saint Pierre, it has been visited by thousands of nautical connoisseurs, insiders, lovers or simply curious visitors who was made fascinated, both for the external shape and the internal finish.
August 2009: launch for Santarpia 55 near Portovenere's Gulf. Expectations have been totally satisfied both for performance – with a reached max. speed of 34 Kn and 30 Kn as cruising speed – and for the asset and the comfort during the navigation.